ALEXIA'S CRAFT PROJECT
Every once in a while littlepnk will introduce to you some of the most talented little people we know. They are those special kids who are incredible crafty and have an amazing creative point of view. We will present their stories to you and offer you the opportunity to purchase their creations, exclusively on littlepnk.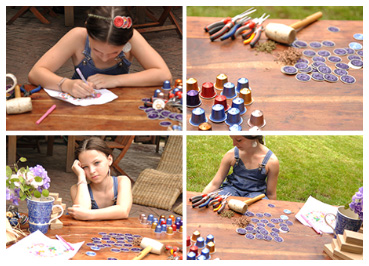 Alexia is an extraordinary skilled girl coming from a highly creative family, she grew up into a beautiful young girl , passionate about painting. She learned to dance and she's incredible at it too. During our summer campaign shooting, she did a dance based on Rihanna's Shine Bright Like a Diamond and she impressed our crew to bits!
Alexia has also started doing a lot of handmade accessories lately, the ones we chose to make available for everyone to shop via littlepnk are the earrings and the necklaces made out of used espresso capsules. Without any bias, we can say her designs look amazing and unless you tell people what they are, they will never guess that capsules can make for such an amazing design.